Dani loves working as a face and body painter and also offers Glitter tattoos and balloon twisting. She is friendly, polite and brings fun, sharing her creative talents with everyone. Let's get creative. Tell me all your weird ideas. 
It is important to Dani that everyone has a great experience. The most wonderful feeling is showing someone what she has painted and their faces light up with joy.
Event Options: 
$120 per hour plus travel fee if needed. 50% non-refundable deposit to hold your spot. 
Face Paint 1: 6-8 Faces/Hour: Custom Designs, Lots of detail, Glitter, Gems, Stencils full face
Face Paint 2: 8-13 Faces/Hour: Moderate Detail, Partial Face
Face Paint 3: 16-25 Faces/Hour: Preset Menu Board with 10 options. Simple Design, Partial Face. No Custom Designs
Glitter tattoos: 12 -20 tattoos per hour
Balloon twisting: 12-20 shapes per hour depending on design.
Booking Inquiry
I'll Be sure to get back to you as soon as I can to let you know if i am available.
you can also call or text me at 780-995-9936
House Rules
Be Kind. Have fun.
If you are not feeling great, let her know so she can put on a mask and spend extra time sanitizing. 
Give her some space. Please stand at least 4 feet back. Do not touch her tools and supplies. 
No children under 2 years. They do not know what is happening and they cannot tell their guardians if they are having allergic reactions. Children of 2-3 years might be more engaged with a hand or arm design.
Dani does everything she can to keep supplies and materials safe and clean. Brushes and hands are cleaned with hot water and unscented baby soap. She also provides new bobby-pins for each child and sponges are only used once, then cleaned and sanitized. Please contact me if you have any specific questions about my practices with regards to hygiene.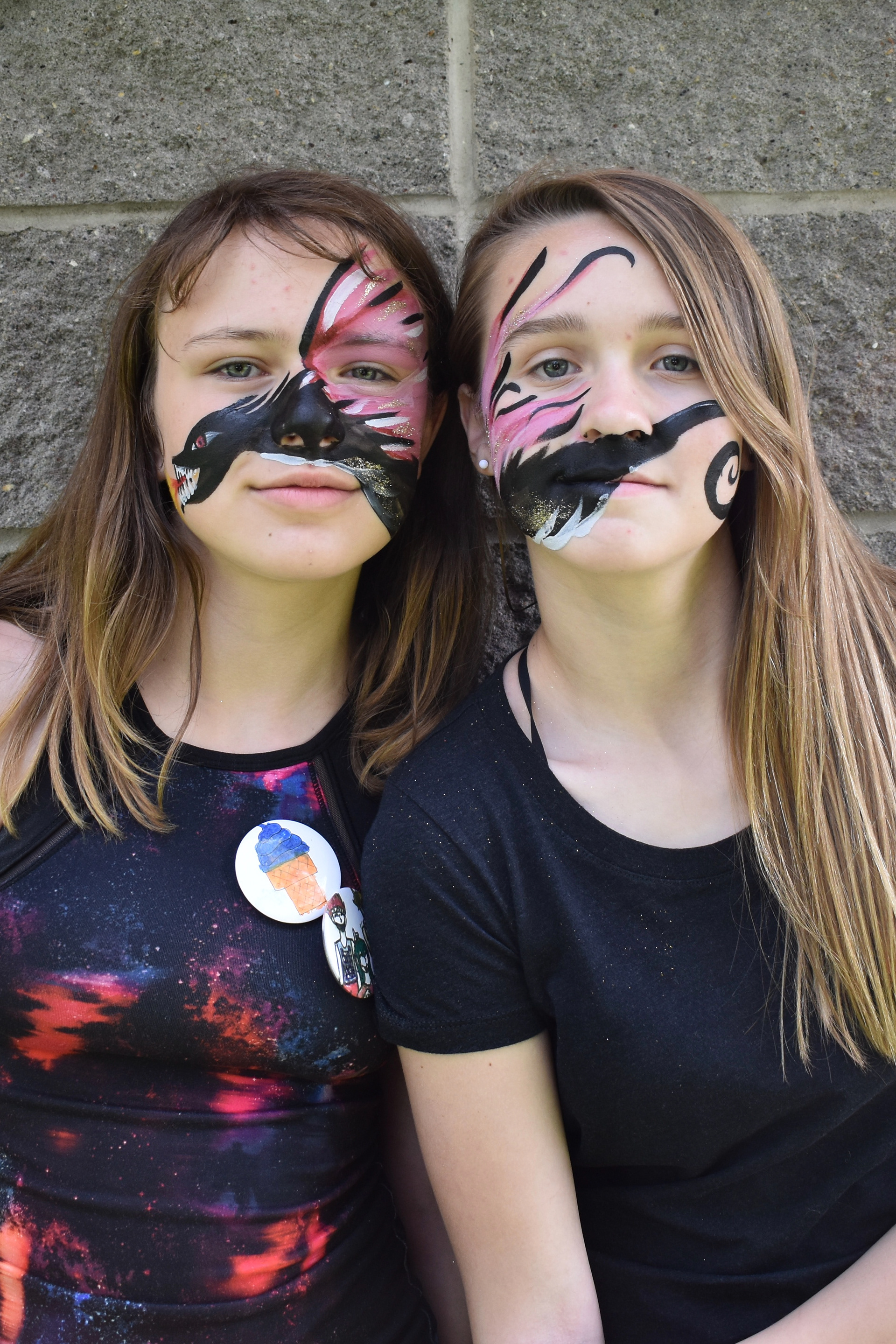 What do you charge for face painting?
$120/hour for face painting. If your event is located in areas outside of Edmonton, a travel fee may be applied. You must book for one hour minimum.
Do I need to send a deposit?
You will need to provide a non-refundable 50% booking deposit. If you wish to cancel a booking, please provide as much notice as possible. 
​How and when do I pay?
I accept cash, email transfers, or cheques if you are booking through a business or charity and require a booking deposit or 50% upfront. I understand that, as the host, you are busy. I do hope that full payment will be made before or at the event. However, I will accept payment 3 days after the event date.
Do you have a minimum booking time?
Yes, I book for a minimum of one hour.
How far in advance should I book?
There is no set amount of time. However, as soon as you decide you want a face painter, you should book. Certain weekends or holidays can fill up quickly.
Do you charge for travel?
Edmonton, St. Albert, Sherwood Park FREE!
Spruce Grove, Devon, Stony Plain, Beaumont$20
Leduc, Millet, Morinville $30
Saba Beach, Fort Saskatchewan,  Alberta Beach   $40
Please ask of you had another location in mind. 
Do you charge for setup?
No, I will arrive about 15 minutes before the start and 15 minutes after my scheduled time to set up and pack at no extra charge. Please note that if you would like me to stay past the scheduled time, you will be charged in 15 minute increments at my rate of $120/ hour.
How many people can you face paint in one hour?
I can paint approximately 8 faces per hour. This allows for about 7 minutes per child. However, I have a variety of quick designs for larger events.
How long should I book face painting for?
I like to paint no more than 10 people per hour. The amount of time you book for will depend on the number of attendants to your party and the complexity/size of designs you would like.

What do I need to do to get ready for face painting?
If you have a designated space / table for face painting, it is a good idea to have it cleared and cleaned in time for my arrival. However, I do bring my own table and chairs with me to every event. It is helpful to create a sign-up list, to organize large groups and excited kids.
Is your face paint safe for my child?
Yes. I only use professional face paint that is safe to use. All cosmetics can, on rare occasions, cause allergic reactions. All products should not be applied to sensitive or broken skin. 
Does face paint wash off easily?
Yes, the face paint is designed to come off with soap and water. Sometimes a faint residue is left behind after the paint is first washed off. By the next day, these traces of paint should disappear as the skin naturally exfoliates.
How long will the paint last for?
Face paint is activated by moisture, so if you want it to last longer, avoid touching it or getting your face  wet.