Josies Bedroom
4 years ago, I had asked my friend, Victoria, If I could body paint on her very pregnant belly. I had given her the modified and framed concept sketch as a gift for her daughter's 1st birthday, now hanging in Josie's bedroom. Victoria had wanted to do a mural in Josies room when she was at an age to tell us what she wanted. In June of 2023 we did it! 
When asked Josie what she wanted her mind was already set. She wanted her fox in the picture I drew because "it was her". This filled me with emphatic joy. 
I painted 'her fox' in is't own little world Josie could be a part of, this world has a flower garden and sunset wrapping around her bed, an apple tree umbrellas over her dresser, a pond with fishies she could hand out with under her bed, and a raspberry bush and  her sleepy fox and her eye level, front and center.
Backyard Blitz
This was done in my client's backyard, their future plans for the space is to turn it into a hot tub and entertaining area they can share with their friends and family. The back of their garage hard some work done and then finished with concrete, different from their original stucco finish. the goal of this mural was to try and hide that spot, which what a different color and texture from the rest of the wall. their vision was to be able to sit in their hot tub and have a mountain scene. The mural is inspired by a lake in jasper they like to regularly visit.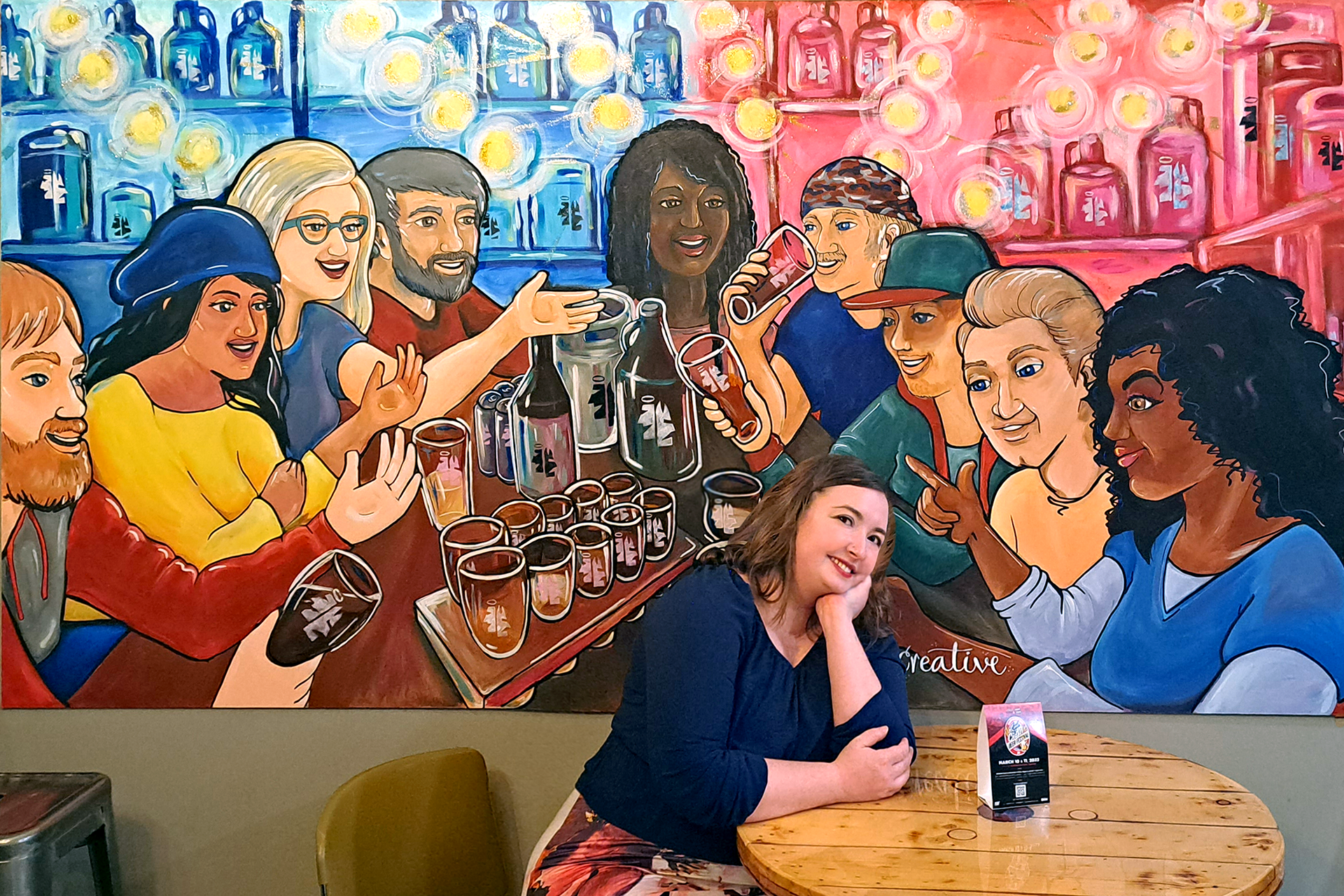 Coming Together 
This Indoor mural was done for Omen Brewing in Edmonton and is displayed in their taproom. I wanted to show a diverse group of people, coming together as friends to enjoy each others company. The background is an interpretation on the taproom and the blue to the right and red to the left mirrors colors used in their logo. I have also used one of their bartenders and one of their regular customers as inspirations of people visiting at the table. The logo icon is used throughout the artwork.  
Window Art 
In Partnership with Edmonton Cartoonist, James Grasdal, done in his wonderful illustrated style, painted and lettering was done by me.